Last week we went to the local Salvation Army. I was mostly on the hunt for dresses for my older two girls for this summer. They prefer not to wear pants at any point in the year and we're running out of dresses that fit them. ANYWAY...we did not manage to meet that mission, dresses are hard to come by!
But!! We did find some things I was in "need" of. This is my room: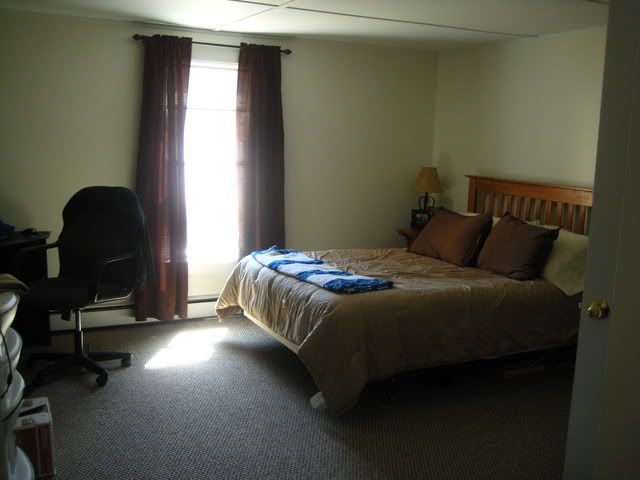 I had bought a new comforter set but the Hubby decided he liked the golden tan/brown set better, so the new one was returned. Alas, I did want to spruce it up. Mostly I'd been on the search for a bedskirt that coordinated, but wasn't a fortune. I don't understand why one skirt costs as much as a set of sheets?!
Also, the brown curtains are the same ones
I had bought at Target last winter
. We moved and ended up getting different ones for the living room. The brown ones matched our bedding better than the ugly blue ones we had before, but I still wanted something different.
So we took a walk around SA and in the home section, I saw a pile of bedskirts. On the very bottom was a faux-silk tan one that matched my comforter almost perfectly. The price? $3.49! Score!! It was also a pink tag which was half-off that day, so I got it for $1.75! Then we turned the corner and I saw something shiny and aqua blue, two of my favorite things. A closer look revealed a pair of Better Homes & Gardens faux silk panels. The extra long kind that I love. I knew they'd be perfect in my room. The price? $9.99, but ALSO with a sale tag! $5.00 for the pair!!
I rushed home and got them situated. The results:
Much better, much brighter! And now you can't see my craft bins under the bed.