Fabrics, patterns, more...I love to "window" shop online. Sometimes numerous windows. One of my favorite places is
Above All Fabric
. Melanie, the owner, sends out some sweet newsletters each month, and always has the best fabrics and deals.
Right now she's doing a giveaway - create a wishlist, blog about it, then post the blog link on her
blog
.
Here's some thing on my wishlist:
Carnival Bloom knit
Cocoa Ta Dot knit
Scandi Chirp knit
Raspberry knit
Pink Paisley cuddle minky
Lindy Leaf in Pink
Dogwood Bloom in Berry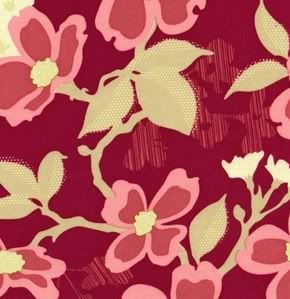 A few patterns..
Mini-Nina
Mini Frida
Nina
I can already picture that Dogwood Bloom as a great little bag, the Scandi Chirp and Raspberry knits as a fun little dress set, and that pink paisley cuddle as one side of a cute baby blanket... Now I just need to show The Hubby my wishlist...