My daughter's 6th birthday is rapidly approaching. You should read that as "HER BIRTHDAY IS TOMORROW, PARTY IS SATURDAY! FULL PANIC MODE!!" I'm trying to finish up all the little details in hopes it'll all come together for us Saturday afternoon.
She wanted a Princess Tea Party and a requisite is magic wands. Not just any store bought wands, but
special
wands. Fairy wands.
I did a bit of searching to find the perfect item, however I stumbled upon
this tutorial
and thought "Ah ha!" You know you love those "Ah ha!" moments too.
So. I grabbed 10 dowels. These are 3/8" round by 12" long. I painted them with two coats of pink paint and let them dry. While they were drying I made the pom poms. These were a pain in the backside! Literally. I had to sit on the floor near the outlet to use the glue gun since we recently moved and the only available outlet is not near a work surface.
Anyway! The next step was to add ribbons. I used 1/4" satin ribbons. I did a thin line of glue around the diameter at the top of the dowel then wrapped the ribbon around that to keep it on. I did a double knot and dabbed glue on it again. Then I secured the pom poms to the top with more hot glue and VOILA! They're done!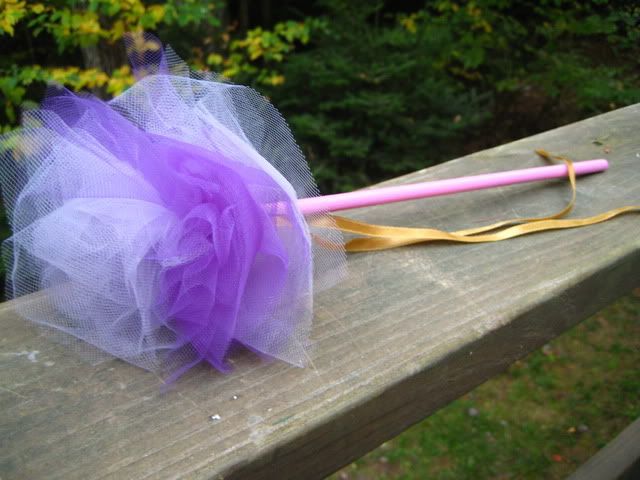 I just hope she loves them as much as I do. Stay tuned for more birthday prep!