I have a pretty good relationship with my dad. He's the kind of father who is there for you, but lets you find your own way. Tells you what he would do in any situation but leaves the decision up to you, knowing you'll probably listen to him anyway.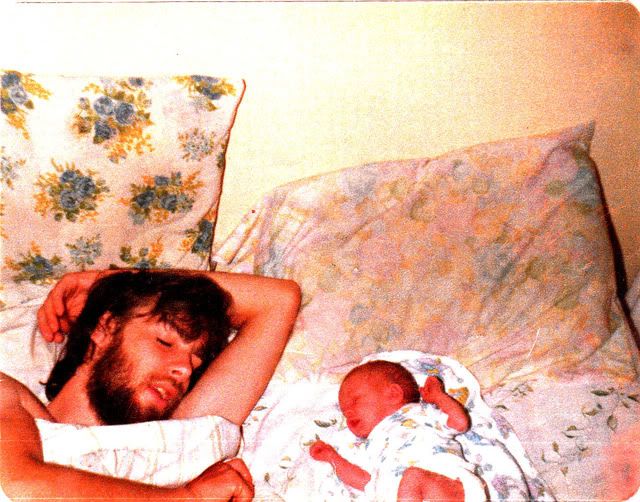 My father and I when I was just a tiny baby...look he had hair!
When we were younger, my parents separated and later divorced. We'd see our dad on weekends and it was almost a ritual to listen to the college radio station Saturday and Sunday mornings. They played EVERY kind of music imaginable. Hip hop, rock, classical, POLKA! Yes polka. We looked forward to it, even if we grumbled out loud about how dorky it was. I sometimes scan the station when I'm out with my girls, hoping to expose them to variety the way my dad did.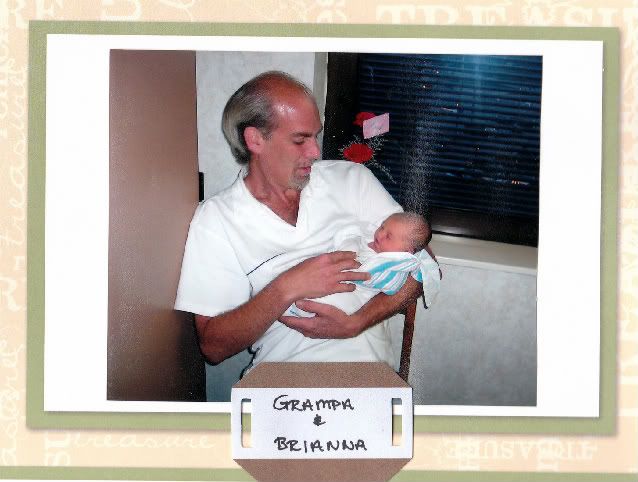 My dad and my oldest, Brianna, when she was born in 2004.
My dad has this way of drawing people to him, everyone is welcome. He had this rule, if you were eating dinner with us, you must have seconds. Even if it's just a little bit, he liked to know the people around him were well fed. And that we were, he makes the yummiest meals, ravioli soup, chicken sandwiches, stuffed mushrooms, shepherds pie with cream of mushroom soup. There was that one time he made stuffing that had apples in it. We all tried it, and were completely disgusted, but ate our portion because we were supposed to. Afterward he asked how we liked it and we all told him it was gross! It's easy to be frank with my dad because he's frank with you.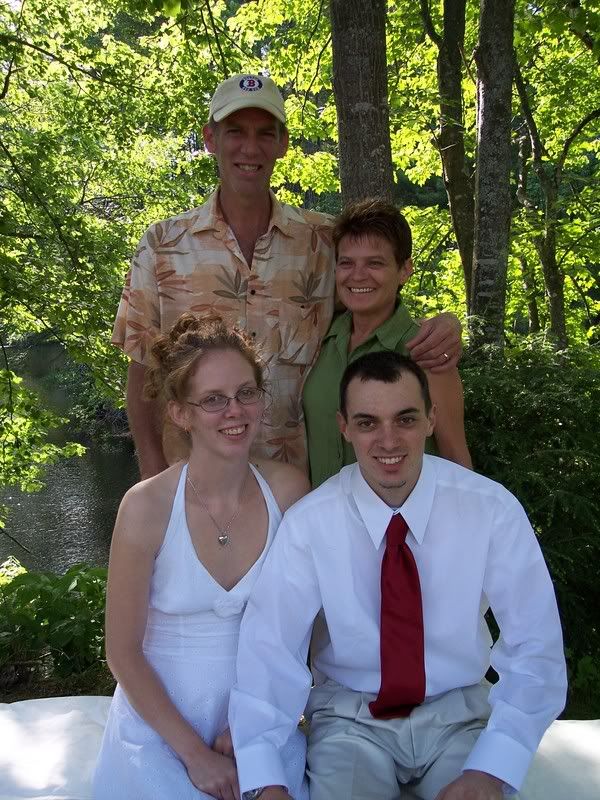 My father, stepmother, husband and I at our wedding in 2007
My dad moved to Florida a couple years ago. I miss him every day. My sister soon followed as did my brother, leaving just me and our baby sister back home in New Hampshire. In February 2009 I went to FL to visit him and my sister, she was pregnant and I was driving home with her for her baby shower here. It felt so good to be with my dad again, just laughing and talking. Eating (haha). He's been home a couple times as well but it's just not the same.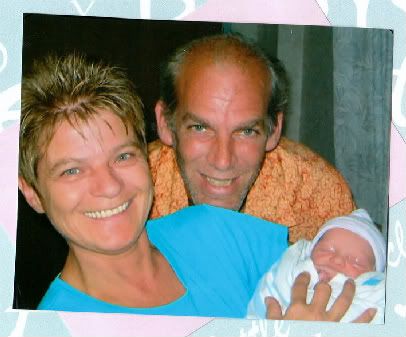 My father and my stepmother, with my middle, Caylee, in 2006
Anyway, Happy Father's day too all you father's out there. Happy Father's day to my amazing husband, Ian, the best daddy my girls could ever want. And Happy Father's day number 27, Dad, I love you!