My little sister is having a baby girl in August. I wanted to give her some things made just for the little one (who currently is nameless still! It's driving me nuts. Pick a name!).
The first thing I made was this little reversible dress. I had the idea for it in my head and had to wing the pattern on my own. However I goofed and didn't make the straps long enough when I drew the pattern. I wanted them to be long enough that they could overlap and snap. Instead they have a bit of elastic covered by coordinating fabric. Ah well. Trial and error.
And the other side:
Next, I whipped up this yummy carseat size lovey blanket. One side is organic bamboo velour (although I think that's supposed to be called rayon from bamboo now? I'm not sure...) The other side is bubblegum giraffes. I
lurve
this fabric. It's a favorite of mine.
Close up (the little loop now has a link-doo attached to it so she can hook it to the carseat or add a toy.)
And lastly, some little bibs. I followed the tutorial and used the pattern from
here
. These are really easy. Aside from the cutting, they take no time to make.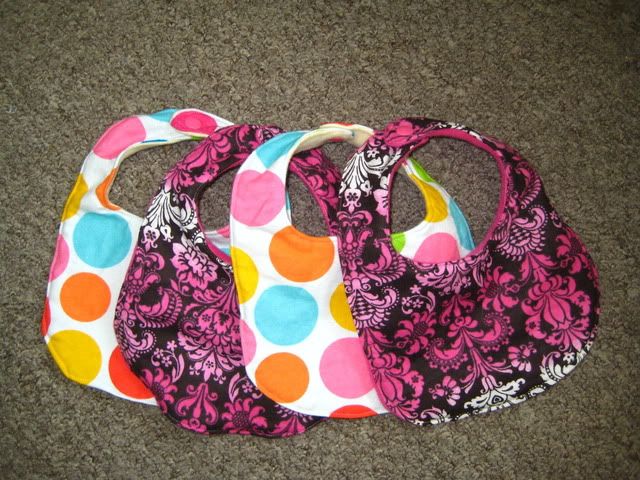 These are backed with fleece and have plastic snaps for closures. My hubby had to help me the first time using the snap pliers I got from KAM snaps. They're pretty easy to use although I did break a few snaps in practicing.
Sooo that's the start of her handmade gifts! I made up a few other things that aren't finished. Will post as soon as they're done. I've run out of thread!! Who does that? All I have is some yellow variegated thread that just doesn't look right at all. I want to make some more bibs, some matching burp cloths, and a couple more dresses.