I was inspired by
this wreath
here on
Tatertots and Jello
. I had a small foam wreath I picked up at the Dollar Tree.
I wrapped it in strips of burlap, securing it at the back with straight pins, I wanted to be able to take it apart if I didn't like it. Then I cut a different size circles of burlap and fabric and attach them using pearly headed straight pins.
Maybe I'll add more circle stacks, not sure just yet. I kind of like the simplicity of it. I created the tie by cutting a long strip of fabric, folding it in half right sides together and stitching down the long side. I flipped it right side out, closed up the ends by tucking them inside and stitching down, then wrapping around the top and tying it up.
I have it hung here for now, I may move it, depending on how much the kiddos try to play with it. And surprisingly, the Hubby likes it. Who knew?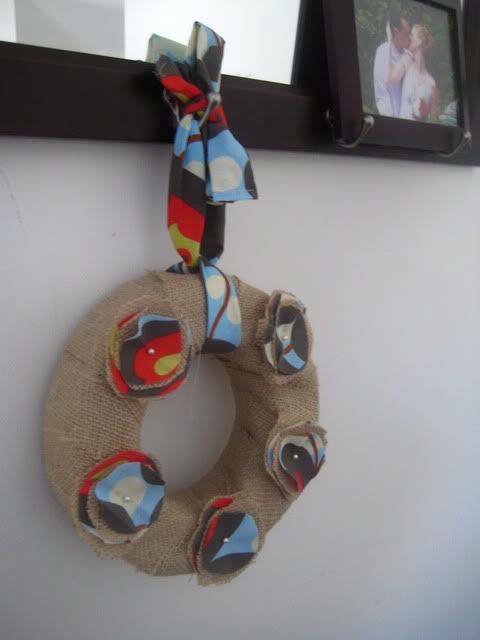 Oh! And I hung up the wall decor from yesterdays post. I think I like them this way, but I want to kiddy corner my couch underneath them now. Hmmmm
(excuse the mess, the little one is sleeping on the couch and I don't want to wake her by cleaning, at least, that's my excuse!)

Linked up to