I'm sort of in the process of making our house a home. This is involving lots of wall decorating, because we have plain white walls - just boring to me.
My amazing Hubby stopped at the fabric store for me last night and picked up a yard of burlap for me. He's fantastic, yes?
I painted these frames the other day. They were an ugly orange-y stain before (sorry no picture of said ugly stain), and I used an oil rubbed bronze spray paint, which is probably my new favorite craft item.
I debated for a long time what to put in the frames. I searched the internet for different fabrics but had the hardest time. You see, I recently purchased these little wall decorations, and I wanted something that looked good with them (red, black, cream) but not too match-y.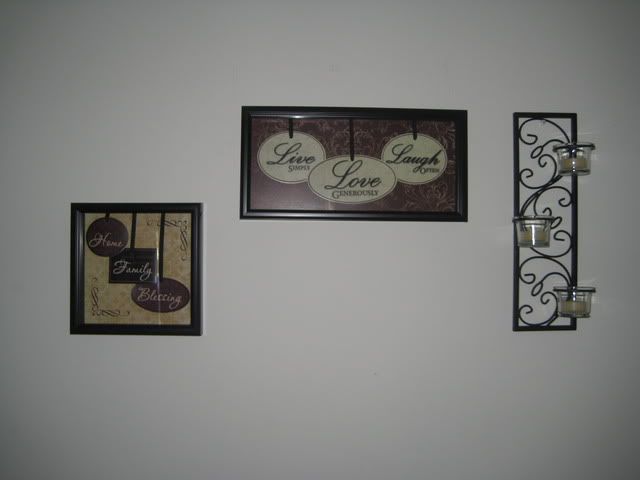 I also wanted to try to tie in the
pillows
I made with Amy Butler fabric.
Finally I decided I'd give burlap a try. It's all over blogland and why not? It's fun stuff. So I used some Steam-a-Seam and attached some of the flowers from the AB fabric to the burlap. Then with the help of my trusty staple gun, I stretched the burlap across the back of the frame.
I think I like it. It's growing on me. I think I'll like them more when I hang them up. I just need to decide where to put 'em! (Obviously I won't leave them sitting on the back of the couch!)
I'm linking today to:
Whatever Goes Wednesday on Someday Crafts
Show and Tell with Blue Cricket Design
and