1.
Spectacle Dangle Earrings
by
AntiquatedPearl
2.
STERLING SILVER NECKLACE WITH FRESHWATER PEARL
by
heartdesignjewelry
3.
fairytale . silver . necklace
by
87photography
4.
Pearl Swarovski Crystal Mauve Bangle Bracelet
by
beadedjewelryforyou
Now that we're all done spoiling the kiddos with holiday gifts and cheer, I'm of the mind to spoil myself. Except I can't. The Hubby would prefer I wait until after Valentine's Day to do so (and yes, we're totally commercial when it comes to this holiday, no apologies here!). So instead, I'm posting some of my favorite etsy finds in hopes that maybe he'll swing by my blog and get some ideas. Of course, should V-day fly by without a trinket like these, I might have to get something for myself anyway. I hardly ever shop for me, really. I just pretend I do.
Anyway -
Remember the
changing table
I got? The one that was going to be my new fabric storage? Sadly, it has suffered a major catastrophe at the hands of yours truly. I tripped in the basement while carrying something very heavy and crashed into it, heavy object first, which really wrecked the table. It was very unfortunate. But I have found a new hope! Meet my next new addition!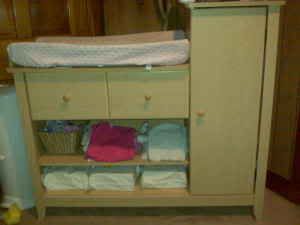 I actually think I like this one better and I think I'm going to leave it as is for now. What do you think? Should I modge podge the top? I do think I'm going to change out the knobs but haven't decided what I'll change them too. Lots to think about.