Because I learned that I can! Wow I'm impressing myself with my sudden increase in skills! (just kidding, I'm just glad I didn't hurt myself haha!)
I started this dress for my oldest daughter AGES ago, before her 5th birthday in September. Unfortunately I didn't give myself enough time to make the dress, the party favors, or anything else for that matter. So the pattern pieces were pushed to the wayside.
Until two days ago. I had found it all when cleaning out my craft space and the other day decided that it was time to finish it. I was a little worried that it wouldn't fit her anymore and would be a bit too big for the middle one.
Here's a couple pics. One from last night in the in between stages (do you like the way I changed up the charger display? I got a suggestion from
Amanda
to add some vintage beads. However I don't have any *sadly* so I used some of the girls' costume jewelry)
And today, all done, minus the zipper and a little embellishing on the front. Last night I still needed bias tape and then I realized "I can make some!" I talked to myself out loud a lot last night about bias tape, like "Whoever created this idea is a GENIUS!" and "Oh my gosh it really does stretch!" haha I was special last night that's for sure.
I'm thinking I might make one of those fun fabric flowers for the front, in hot pink to match the colors in the dress, with a spakly button center.
And I wanted to say we're all done with
kojodesign's
"
I heart New Year's Challenge
"!!
Yesterday I did the downstairs deep cleaning. My living room never looked so good. However, I forgot to take pictures and the Hubby was home today and claimed it as his domain. TODAY was the "overflow" or "rest" day and I decided to do both. The girls' room really needed some cleaning up and rearranging. The littlest one discovered how to get to the top bunk and we decided this just wasn't safe...so we took the bunk beds apart.
A quick before (there's a few things different in here now than before, this from when we moved in this summer, so there were boxes everywhere still).
And after hours of labor, and Hubby's strong moving skills: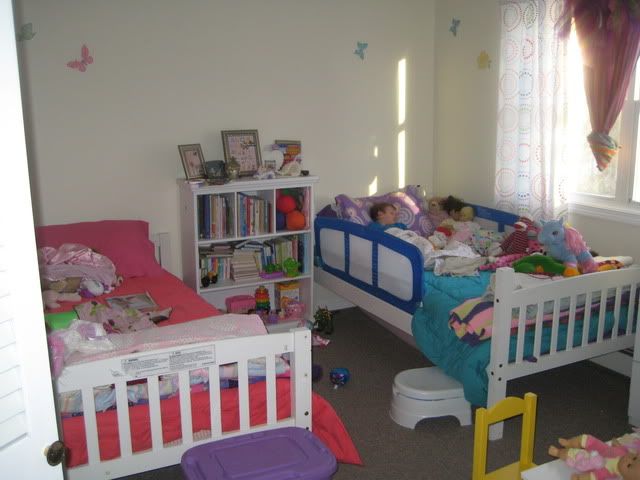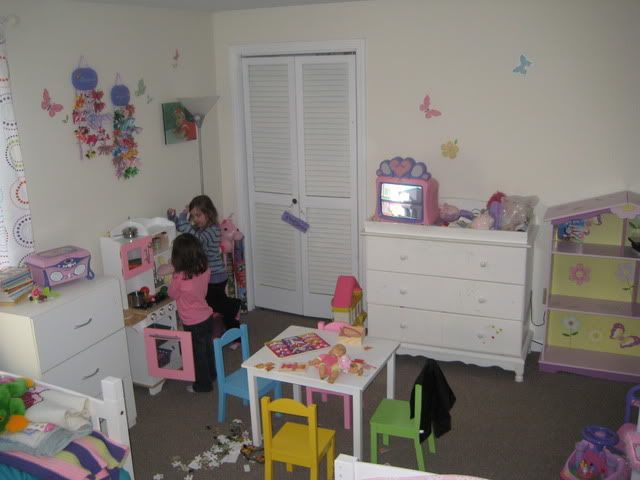 I'm ALMOST happy with it. We cleared out some stuff but there's still SO MUCH! These guys are spoiled and they know it. I do have plans for some fun funky frames and decorations in there. Maybe some paper lanterns? We'll see :)
I joined the party here today: