A sigh of relief, that's what that was. Tonight is the last night of school vacation. I am so looking forward to my one-on-one time with the littlest, as well as her nap time ;) so that I can get things done. Of course looking at my craft space, I was NOT feeling motivated to craft at all.
But then...I saw on
KojoDesigns
the "I heart New Years Challenge" and decided I might as well get cracking.
This is the before of my craft space. The holidays and change in seasons really messes me up. Things get put all willy-nilly, the kids invade the space, and it just gets yucky! *bleh*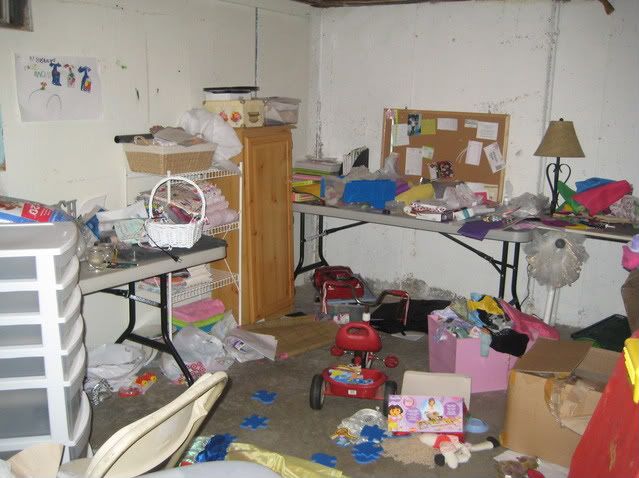 And the afters. I sew, make hairbows, scrapbook, and paint, among other things down here. I wish it weren't a basement but it'll do for now.
Here is where I do my fabric cutting (someday, maybe soon, I'll have a nice big cutting mat, or a cutting table!!), my scrapbooking, painting, and bow making.
This plastic storage my parents gave me for Christmas. I labeled the drawers with spare cardstock and filled it right up. Notions, ribbon, patterns etc go here.
On the right here, you can see my mountain of scrapbooks and baskets/bins filled with felt, pictures, miscellanous scrapbooking things. The brown cabinet houses the girls' baby books, yearbooks, photo albums, shipping supplies, books, and candles (I adore partylite!) The white shelving is my current fabric storage..
These shelves will soon be replaced by
this changing table redo
Here is where I sew. I have big dreams of an old restored farm table but for now I have these heavy duty folding tables thanks to my dad :)
And some inspiration from my oldest, she wants to be a fashion designer/interior decorator/teacher/doctor. Big dreams, little girl! Keep 'em alive!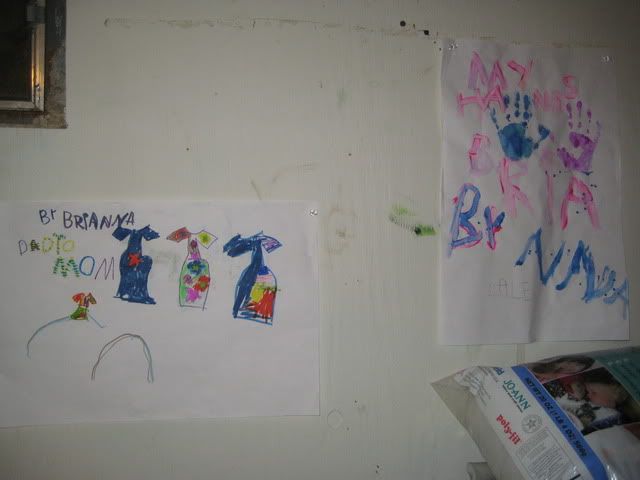 The silver charger I got in a set of 4 for $1.25 at Walmart during their 75% off Christmas sale. I also picked up the tree for $1.75, the Wish sign for $1.25 and I already owned the partylite candles and holders. I want to get some bright funky pillars for springtime but we'll see. I also need ideas for where and how to use the other three chargers haha
So that's my craft space in a nutshell. I've done #1, 2, and 3 on their list for the Challenge. (Number 3 was done before now but I've been working on staying on top of paper for a while).
I just finished up #4 this evening. It's an apron for my middle daughter. She's not into ruffles and fluff so I made her a simple, bright colored apron. Instead of ties I did a velcro waistband. I saw it on someone's blog and now I cannot find it! If you came up with this idea PLEASE let me know! :)
It was really hard to photograph it without my models. They're asleep so for now these pre-action photos will have to do.
I really want to put some embellishments, maybe a green pocket or something fun on the front but I have yet to decide. We'll see.
Lastly but certainly not the least important,
Disney of Ruffles and Stuff
is holding an amazing giveaway! She makes such pretty jewelry, it looks so romantic. I'd really like some of my own *hint hint Hubby!* Run on over and check out her blog, and while you're at it, check out her etsy shop as well,
Antiquated Pearl
Don't forget! Tomorrow is the last day to enter MY korker hairbow giveaway! Enter by leaving your comments on this post
here
!
Goodnight!