I've been working hard getting used to my new sewing machine. It's been a love hate relationship because I get too excited and tend to forget that when I switch the stitch type I need to adjust stitch length and tension. But I'm getting better. Just....my pieces are coming out funny. I'm not very good at reading patterns. I get irritated with them. I wish someone would come stand by me and help me figure them out.
I decided to forgo a pattern for a minute and throw together a pillowcase dress for "Sara", my oldest's American Girl doll. It's not great, but my daughter doesn't seem to care.
And here's where I started to use a pattern. The top got all bunched up in the back. I couldn't figure out the yoke and straps (because it did not make sense to me in the pattern), so I'm not pleased with that. Then the bottoms....oh the bottoms. The pattern has you stitch the center seams on the front and back on the OUTSIDE of the fabric. It looks weird, but it doesn't seem like it would work right with the stitch on the inside either, so no choice but to go with it. I got them just about done, went to hem the bottoms and stitched the legs shut! Haha - lovely! I don't have a seam ripper nor did I feel like picking those tiny stitches out. So I just cut them and cropped them. Made the hem and was like "Well these actually came out okay"
Then I decided to add a ruffly thing to the hem and screwed them all up. *banghead* Hubby says they look okay and that our daughter won't care. We'll see. I whipped up a mini headband for her using this
tutorial
.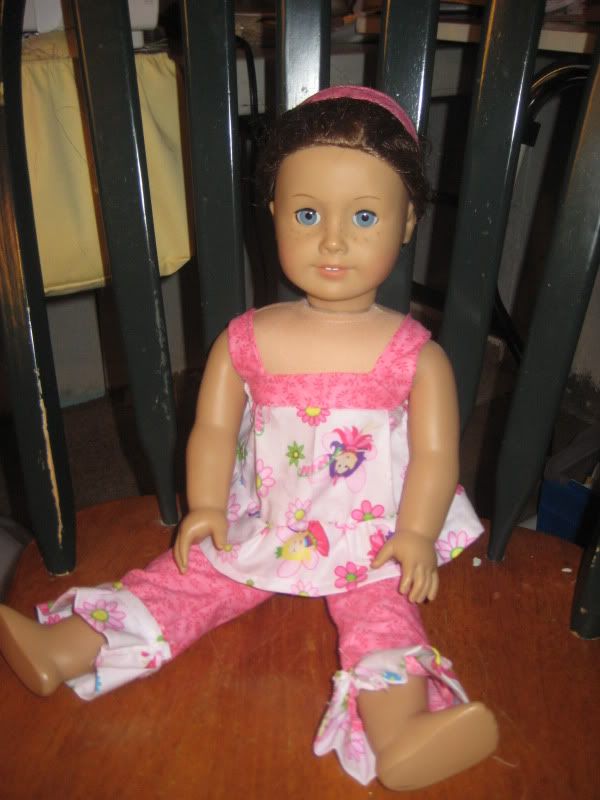 I think I'm actually going to make a bunch of these headbands for myself and my girls. They are SO easy!!
And because I always have some to show you, more bows: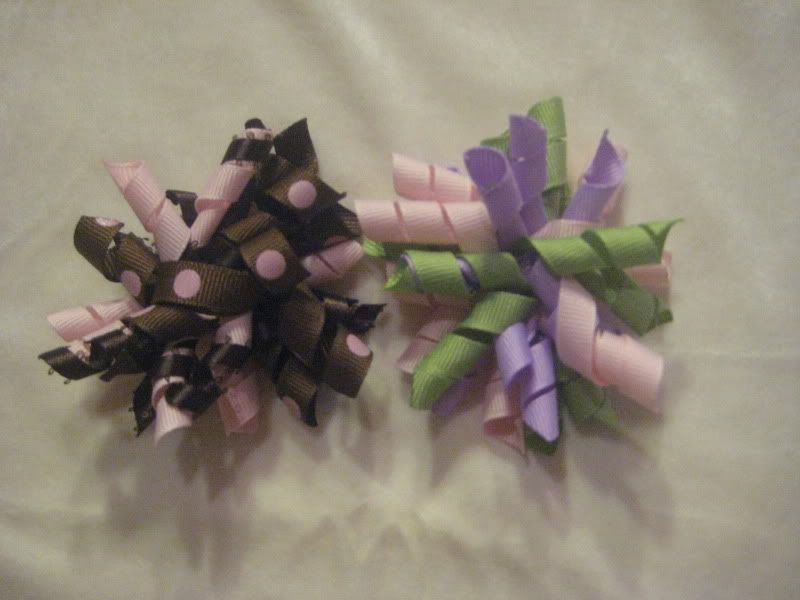 I'm sick today :( But hopefully I'll get some stuff done. Hope you're having a great day!!