I don't know why, but I scrap in spurts. Just when I get time or when I really feel like I NEED to scrap something. Sometimes something great will happen during the day and I'll scrap as soon as the girls are napping or occupied. Lately I've been sort of scrap-happy and have come up with quite a few LOs. I've been trying to participate in as many challenges as possible over at Scrapmatters.com and on
BAM
in the digiscrap forums there.
This might get to be overload. Just trying to play catch up. :)
1.
This was a speed scrap over at SM.
The instructions
1. Choose your pictures and your papers. An even number of each.
2. Arrange your photos on your page in a row. Doesn't need to be even and the pictures don't all need to be the same size.
3. Show me a white or black frame/stroke/matte on each picture.
4. Time to embellish. Choose at least 2 elements and repeat it at least twice on your LO.
5. Add something yellow.
6. Take time to add shadows and make them look really good. Try shadowing from a different angle.
7. Don't title... only a little journaling and/or the date if you like.


And the resulting LO: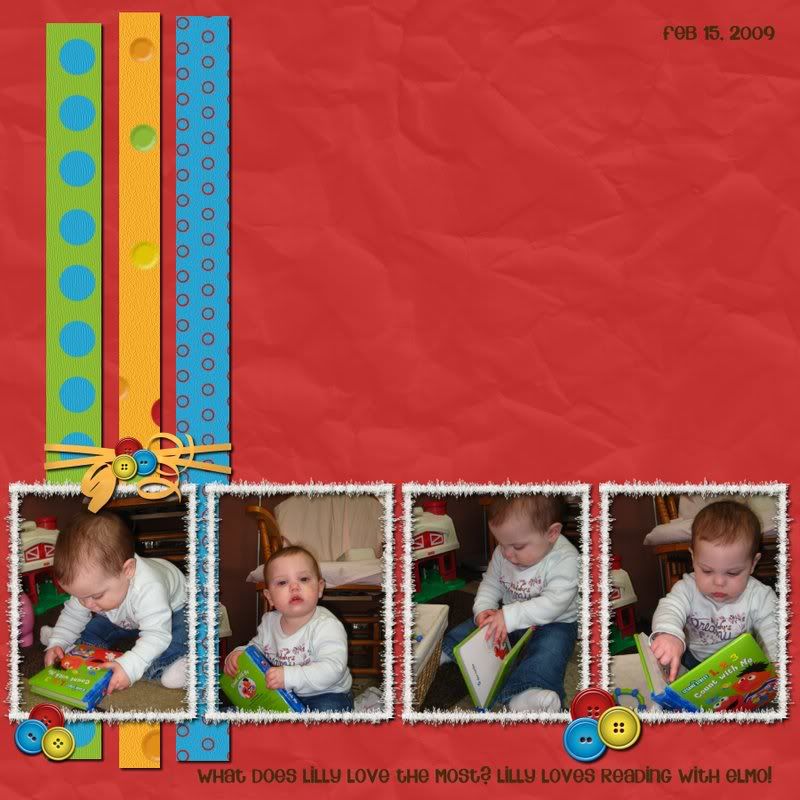 Credits:
Papers, buttons, ribbons - "Birthday Party" by Rustic Charms Creations
White fibers (used to make frames) - "Wonderful Wedding" by Jen Maceyunas
Font - too much paper!
2.
One of my favorite LOs of my oldest daughter so far, "Natural Beauty" was a LO from the BAM speed scrap on 3/11 (wow see how behind I am!?)
Credits:
Papers and most elements - SM Design Star Round 1
-"Flower Scatter" - Dimplebrandy
-"green cotton paper" and "cream/green dot paper" - *Oldies but Goodies Mini-Kit* by CPZDesigns
-"Flower" - *All Natural* by Laura Banasiak aka "simply.scraps"
-"Swirl" - *Chocolate Temptation* by geniaBeana
-"Brown/green dot paper" - *You my inspiration* by Krista Sahlin
Alpha - Shabby princess "promises"
Stitches - "keep em in stitches" by Lisa Carter
Staples - Tootlebugz "CU Basic Stitches"
3.
This was a scraplift challenge over at SM. I lifted this page by
jennamy82
And came up with:
Credits:
Papers, elements, alpha - "Sweet Pea" page kit by
Tracie Stroud
Font - Teacher's Pet
***A little note, I love using just about any Tracie Stroud stuff. She's a pretty amazing designer and my current guilty pleasure! I wish I could buy up all her stuff :) Go check out her blog and her store at Scrapmatters***
4.
Yet another roadmap to scrap over at scrapmatters.
The instructions:
1) Choose one photo only - it must be coloured (no black and white or tinted)
2) Place your photo in the centre of your page - we are going to build our LO around it
3) You need one plain background paper & 4 other papers
4) Show me some stitching! Be creative with it!
5) Show me some buttons or flair - you need to have at least two different ones
6) I want to see at least one kind of 'nature' on your page (flower, leaf, rainbow etc)
7) Layer, layer, layer - I want to see bright and interesting LOs that are fun to look at!
8 ) Your title must be a mix of alpha & fonts
And the results:
Credits:
Papers, elements, alpha - "NEW" Tracie Stroud "Sweet Pea" page kit
Swirl stitches - "Keep 'Em in Stitches" by Lisa Carter
Straight stitches - "LGP Stitches" by LG Perspectives
Font - Socially Awkward
5.
My oldest and my youngest on one page. How perfect :) This was, you guessed it, another BAM speed scrap, 4/4/09.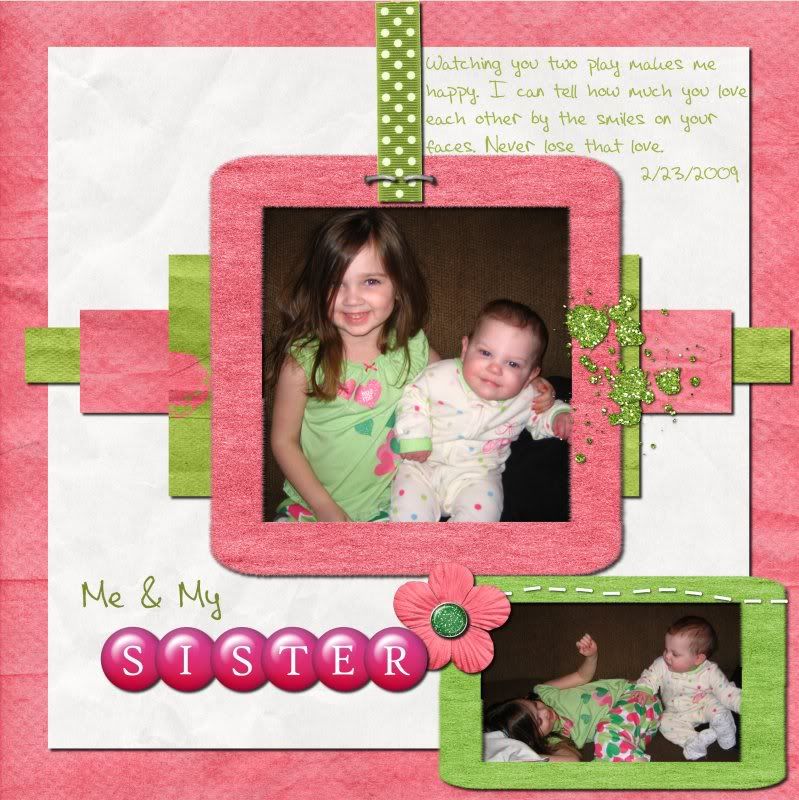 Credits:
page kit - "Playtime" by
geniaBeana
alpha - pink bead by Jaana Säker
font - pea rosie
6.
I love this next LO. We started really cloth diapering my youngest about a month ago and I can't get over just how cute some of these diapers are. This was another BAM speed scrap, from 4/8/09.
credits
page kit - Ready for Sun -
Kimi's Kreations
stitches - "keep em in stitches" - lisa carter
font - peabody, put another one in
7.
I hadn't been keeping up with the BAM weekly challenges. Here's one from Week 23, I think it was April 9.
Credits:
"Spring Bliss" by Snippets Inc, (incl. recolored ribbon)
CU Staple from Tbugz
Fonts - Pea Reese, Pea Rosie
8.
This LO makes me happy. I just can't tell you how much I can't wait to get back to Florida. I took this photo when I went down for a visit in February. I had put off scrapping any of it because it makes me miss my Dad and I won't get to see him again until August. But now looking at the LO, from the SM speed scrap on 4/9/09, I just get excited to go back. I want to share that beauty with my girls.
I am a little disappointed, I forgot to shadow one of the papers, but such is life.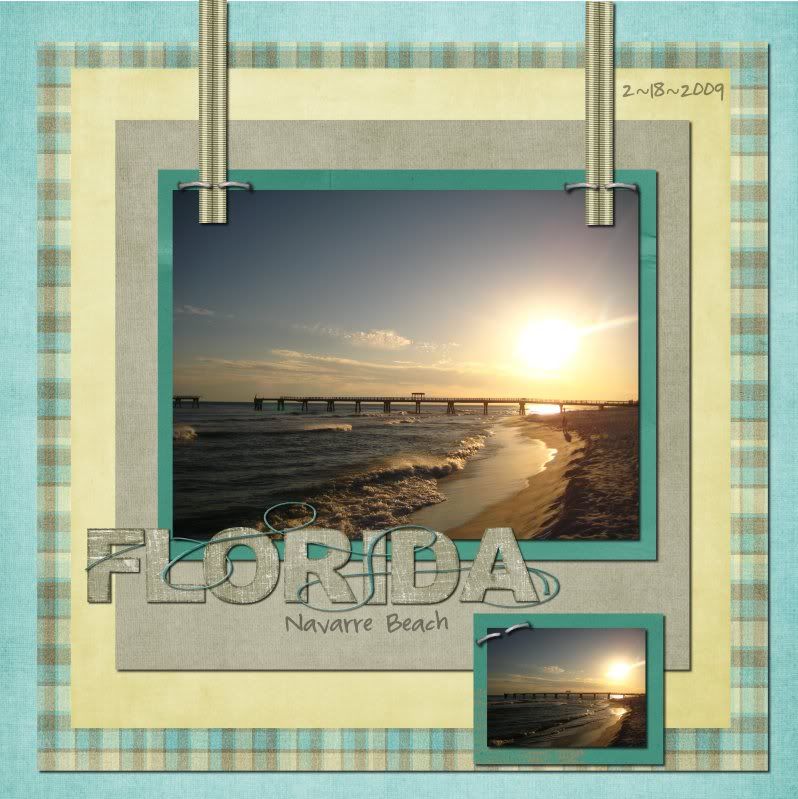 Credits:
Page kit - "Sand & Surf" Designs by Stefanie
Staples - "Playtime" geniaBeana
Font - Pea Susela
9.
SM's grand theft LO challenge on 4/15/09 led to this layout. I lifted this page from
chia's
gallery
and came up with this using yet another Tracie Stroud kit.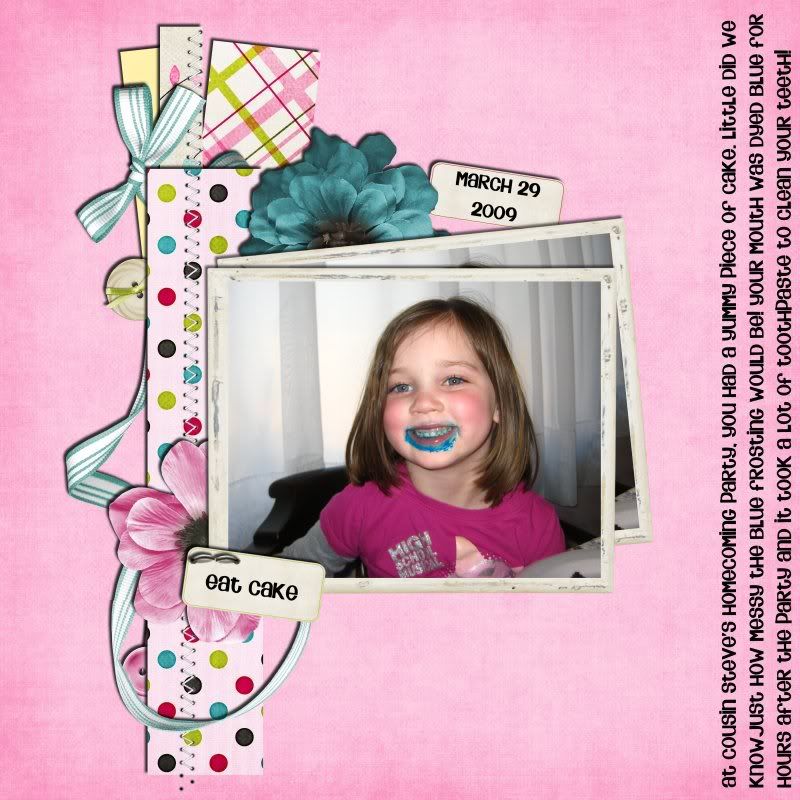 Credits:
Page kit - "Spring Cottage" Tracie Stroud
Staple - "So Happy Together" Angie Kovacs and Tracie Stroud
Font - too much paper
10.
We finally got some good weather up here in New England and my hubby took the little girls out to get some fresh air. I used the pics to do a scraplift of this page from
Bethanny's gallery
at SM.
My results: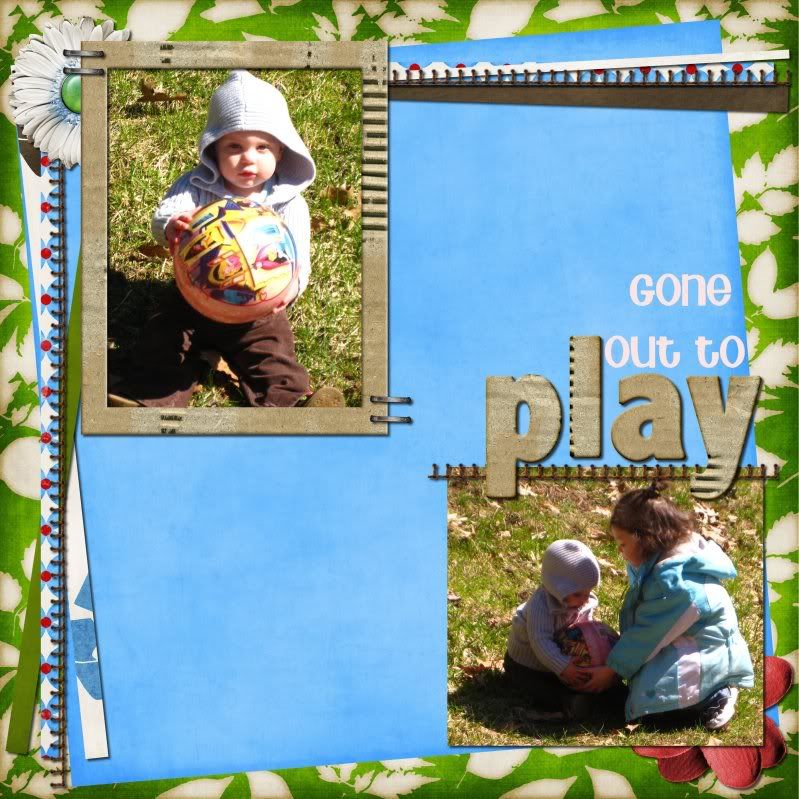 Credits:
Page kit - "All Things New" by Tracie Stroud
Font - too much paper!
Two more :) I promise, then we can be done for the night lol
11.
For SM's Everyday Magic #14 titled "Recently..." We had to use "recently" taken photos in our LOs. Just this morning I snapped some great pics of my little one in the tub and knew they would work out for the challenge. Yet another Tracie Stroud kit...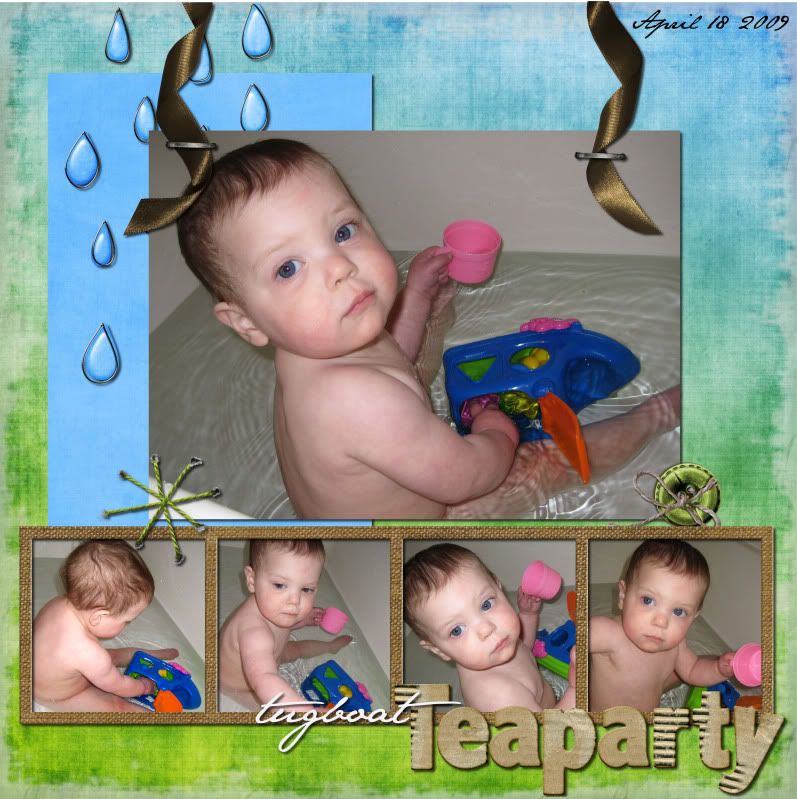 Credits:
Page kit - "All Things New" by Tracie Stroud
Font - Jane Austen
And finally...
12.
For SM's roadmap to scrap for 4/3/09, I chose this photo of my hubby holding our middle daughter in the hospital as they slept. I've always loved this photo and while I had paper scrapped it, I felt the image calling to me for this LO.
Instructions
1. Choose a photo and turn it to B & W. Additional photos are okay.
2. Use only two pieces of paper and be creative with them.
3. Frame or stroke your photo(s).
4. Embellish as you'd like, but I want to see a bird somewhere.
5. Add some stitches, but they need to be stitching down something.
6. Let's have a two word title, with each word starting with the same letter.
7. Tie something to or from your title.
8. Easy, easy...date and label your photo. Journal, if you'd like.
Credits:
Page kit - Spring Bloom - WM [squared] Designs
Fonts - Jane Austen, Missed Your Exit
Onto other things...I've recently been venturing into making digiscrap stuff. I'm not confident enough with my abilities to offer things but soon SOON I tell you I will have something for you. All I've managed to do so far was create one glittery sun and it's not the greatest haha. Just keep an eye out, that's all I can say.
If you've made it this far in my post, thank you. If not, I totally understand. But do come back again!