And I tend to neglect things I start, like diaries, journals, to-do lists (haha), and apparently blogs. I was browsing through my friends' blogs and it dawned on me "Duh! I have one of my own that needs updating!"
I've been doing some of the challenges over at
Scrap Matters
, just a couple scraplifts, and some of their other challenges. I like challenges that give you directions because sometimes at the end of a long day with my family, my mind is fried and I just want someone to say "Hey! Use a pink kit!" or "Two papers, 3 staples, and throw in some glitter for good measure!" ;-)
Anyway, here you go, credits below each LO.
"Sleep" was one of those scraplifts. I chose this one from "alamama's" gallery at SM:
and created this:
I've been holding onto that picture for a while now deciding how to scrap it and it just worked well in this LO.
Credits :
Papers & Elements - Simply Sweet Designs "Celebrate With Me"
Fonts - "too much paper!" and "Oh (Photo) Shoot!"

Yet another scraplift:
I chose this one from "Kate's" SM gallery:









AND came up with this:

My handsome hubby playing Guitar Hero. He's never so serious as when he's playing around!
Credits:
Paper, staples, frame - "Funky Love" by Megan Turnidge
Ribbons - Scalloped Ribbons in Blue & Brown by Colleen Keehne
Font - "The Blue Cabin"
This next LO was part of a roadmap to scrap. They gave us the following directions and we had to create a LO with them.
1. Choose 3 photos.
2. Pick 1 background paper
3. Frame a photo or all of your photos with a set of brackets.
4. Add paintsplats, glitter sprinkles or pixie dust somewhere on your layout.
5. Add whatever elements you would like.
6. Use an Alpha to title your page.
7. Place a little bit of journaling right underneath your title.
8. Date your page by using any square/rectangle embellishment of your choice.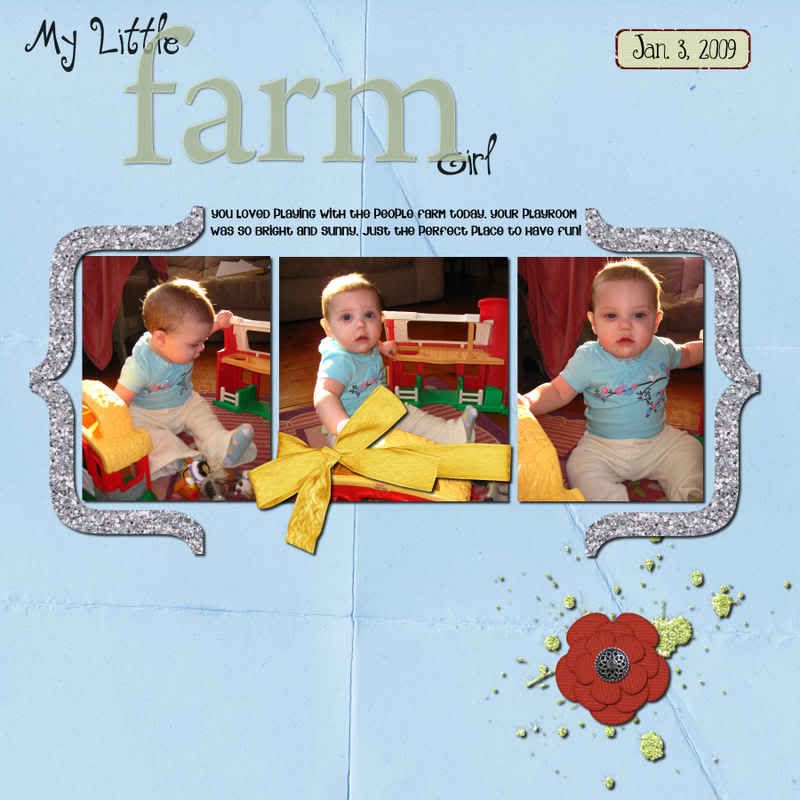 Credits:

Paper, ribbon, flower, alpha - Jeni Hopewell "Family Ties"
Brackets - Geniabeana (Val) "Queen for a Day"
Splatter - Lilipruneau "Enjoy Life"
Fonts - "Tingle Institute" and "too much paper!"
I've got some other LO's I'm working on for some challenges on Baby and Me and SM that I'm hoping to finish up over the next couple of days. I'll post those as I finish them, promise! :D